I've always had a "thing" for olive oil. Call it a fascination with an ancient crop, a love for such a versatile kitchen ingredient, but I've always loved it! Now I have 3 brand new reasons to love my favorite kitchen staple. In the past few months, I've been using olive oil as a non-toxic stainless steel cleaner, a non-toxic furniture polish, and I've been using olive oil to clean my face with the oil cleansing method.
1) Use olive oil as a non-toxic stainless steel cleaner. That's right, just use an old cloth (I use cut up old t-shirts) and rub it on stainless steel appliances in a circular motion. I recently used olive oil as a non-toxic stainless steel cleaner on my coffee maker and I was actually amazed to notice how sparkly clean my coffee maker was every time I walked in the kitchen.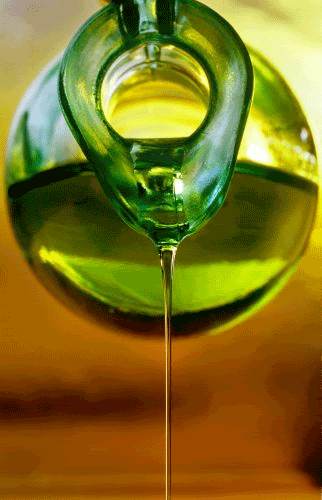 2) Olive oil can also be used as a non-toxic furniture polish. It's SO simple! I've been looking for a non-toxic furniture polish for a while now with no luck and finally tried this with great results. Here's how to make your own non-toxic furniture polish. Simply mix one part fresh squeezed lemon juice (preferably from an organic lemon) with 3 parts olive oil. I like to mix only what I need at a time in a small bowl. Again, I use old cloths like old t-shirts to apply my homemade furniture polish. Ex: 1 tbsp lemon juice and 3 tbsp olive oil.
Did you know? The best olive oil for cooking comes from Crete, Greece. Look for extra virgin, cold pressed organic olive oil. The greener the olive oil, the better it will taste!
3) You can also use olive oil as an all natural facial cleanser. I was a little skeptical at this one but it works wonders. I've been using it for a few weeks now with great results! I expected breakouts or for my face to feel greasy afterwards, but it leaves my face feeling squeaky clean, softer and I think it even has a glow afterwards. You can use straight up olive oil (which I've been doing) or you can mix it with other non-toxic oils to make a custom non-toxic face cleanser for your own skin care needs. For some great info and tips on the oil cleansing method, check out this post on the Mommypotamus blog. For an occasional exfoliator, add a little bit of baking soda to your olive oil. (*Note: I keep a small amount of olive oil in a squeeze bottle in my shower and use it just like normal face soap — at the end of my shower so my pores are open. The only difference is that it takes a bit longer to get it off. I rinse first and then use a very soft washcloth to wipe away the excess.)
So what kind of olive oil should you get for these things? You don't need much for any of the above 3 uses. I use the same olive oil that I use for cooking. After all, I want the least amount of toxicity in the air in my home and on my body as I do in my body.
Know of other non-toxic uses for olive oil? Leave a comment and let us know!